The 'Classic Is Still the Best' Safari
Your senses are driven into overdrive as you spot zebras at play, and gaze at the splendor and wonder that is Mt. Kilimanjaro, and then relax along the Indian Ocean kissed white sands of the coast. This is what a true vacation should be, leaving you breathless and exhilarated all at the same time.
Get a FREE Quote
What Are Others Paying in 2019?
Experience Everything in One Trip

Your senses are at maximum drive during the day as you witness nature at its most primal level. From the moment you land in the Maasai Mara, zebras may be grazing along the grassy fields nearby. One moment you're lying in your tent listening to the distant roar of a lion and the next you're basking in the beauty of Diani beach along the Indian Ocean.
Some people spend their entire life dreaming of an African safari or tropical island retreat. You decided to enjoy both. Together.
Your arrive at a remote airstrip in the heart of the Maasai Mara reserve. On approach, you spot a herd of zebras grazing, some young colts bounding in play. You've already passed over wildebeest numbering in the hundreds of thousands.
You're driven to your luxury tented private camp in a converted safari Jeep, immediately immersed in the incredible experience. You spot more animals, perhaps one of the rare rhinos or elephants that call this expanse home.
The daytime overflows with captivating sights, but night is when the distant roar of a lion catches your attention. There's no mistaking that sound.
An early morning wake-up and some coffee gets you ready to experience sunrise and a tantalizing game drive that will heighten every sense. While on your game drive, you stop for a bush breakfast by the shores of the Mara river and watch while the hippos come up for air.
Finishing the day, you're treated to a five-course meal and time to revel in what you've just experienced, and it's not over yet.
The next day you're at the footsteps of Africa's highest peak: Mt. Kilimanjaro with its snow-capped top. A herd of elephants meander nearby, along with antelope, more zebras, and a wealth of other wildlife.
As if this wasn't enough, you're then flown to Diani Beach in Mombasa where you can snorkel around the coral reef in the clear blue waters of the Indian Ocean and then bask under the sun on white, pristine beaches.
The wind rustles the giant palm trees and the lapping waves lull you to a full state of relaxation.
You've experienced the trip of a lifetime. A dream that became reality.
Suggested Itinerary
For the True Safari Enthusiast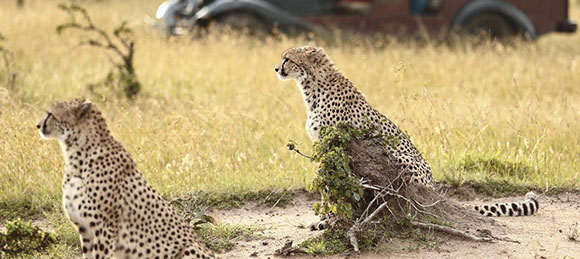 DAY 1: Get Lost in the Wild
The British aristocrat Denys Finch Hatton became lost in these lands in 1911. Not literally, but his soul found its nature's calling and you'll find the same reverie for this destination. Luxurious tented camp style accommodations put you into the heart of a nearly untouched Africa.
Enjoy a hunting excursion reminiscent of Hatton but using a camera instead of any other tool. Walk the same trails that 19th century famous personalities treaded and witness the same splendor they did, more than 100 years ago.
Spot a leopard hunkering in the shade of a large tree, perched atop its thick branch. Fall under the spell of the other African wilds.
At night, marvel at the Milky Way shining through among the backdrop of a crystal black night sky and rest to the sounds of wildlife that makes this one of the most unique locations in the entire world.
DAY 2: Senses Tensed
Wake amidst a true dedication to excellence and a long-forgotten way of life. Enjoy an elegant meal while a roaming elephant or rare rhino may meander off in the distance.
Listen to the roar of a lion in the distance waking the world to its presence. Enjoy an experienced guide as he leads you out into the wild, fully exposed while prowling for views of nature's most impressive creatures.
Stay close, for out here, you are no longer top of the food chain! Your senses will be piqued at every turn and listen closely as you're taught the keys to tracking, hunting, and preserving these incredible animals.
Enjoy a delectable lunch by a riverbank under the shade of an oversized tree drinking in the gently flowing waters of a winding, bending river.
DAY 3: Green Hills of Africa
Be amazed as you set foot onto the grounds of the only camp in the Chyulu Hills of southern Kenya, and Amboseli – Campi Ya Kanzi, the only safari lodge within the Maasai-owned reserve, which covers 283,000 acres.
Ernest Hemingway's "Green Hills of Africa" is written about this very location and with smiling faces of locals and experienced guides to lead you out into the wild, you'll relish every waking moment and sleep soundly among the sounds of nature bellowing all around.
The gorgeous amenities, thoughtful staff, and rustic accommodations will take your breath away, and that's not even taking into account what you'll experience out in the wild plains of Africa.
DAY 4: Stalk Through Tall Grasses
The Maasai culture is unique and rooted in the natural wonders of this part of the world. Discover how they preserve not only their culture and way of life, but the natural world that surrounds them.
Head out early in the morning as you trek amongst the waking world. Spot a herd of giraffe loping across the open plains and bask in the beauty of brown and green grasses, shading trees, and dry river beds that will soon break open with water as the rainy season returns.
Enjoy an exquisite lunch back at the lodge or among the wildlife; it's your choice as this is your safari adventure. No one else's.
DAY 5: Catching Scent
Wake before dawn breaks and marvel at the snow-capped Mt. Kilimanjaro in the deep distance. Savor local fare and delight in the amazing, inspiring, and seemingly never-ending views across the Maasai territory.
Embark on another journey of discovery and set your sights on spotting a herd of elephants or an elusive endangered rhino. Pause on your walk through the open plains as you hear a distant grunt of a lion or lioness. They may have caught your scent, but don't worry; they've grown accustomed to your presence and while your guide will do his best to help you catch sight of a pride, you're safe this entire time.
Follow a Maasai warrior and listen closely as he teaches you how to track certain animals, spotting their prints along the muddy banks of a riverbed, or the unmistakable evidence of a broken tree limb or bent grasses that give against their massive size.
Every treasure you find here is under the ever watchful, protective gaze of Mt. Kilimanjaro.
DAY 6: Intrepid Exploring
The next two days will be spent at Cottars Camp, one of the most experienced and enjoyable villas you'll ever witness. In the heart of the Maasai Mara, you'll be fully immersed in the safari experience while you sleep, from the moment you wake, and deep into the night.
Four generations of explorers and guides help make Cottars Camp a top destination for those who seek a rich and rewarding safari experience.
With a backdrop that is authentically African plains, you'll be in awe and wonder at the wildlife meandering just beyond your bedroom screen or the deck where you can lunch or dine at your leisure.
Listen to the roar of a lion or grunt as a rhino wanders off in the distance.
Enjoy a traditional bush bath and experience how the earliest pioneers bathed, right there in the midst of the African jewel that is the Maasai Mara.
DAY 7: The Essence of a Safari
Be guided in your adventure safaris by Calvin Cottar, the first family of Kenyan safari guides that has, over the last 90 years, guided safaris with understated elegance. You'll get to experience the timeless style of our forefathers, descriptions of which are in many classic and contemporary African and safari history books.
You will be guided by one of three of the top fifteen guides in Kenya who devote their days to making your safari experiences come alive in the most vibrant manner possible.
If you cherish taking in the true essence of an African safari, the notion of a romantic Africa, or the genuine heritage of these incredible expeditions, this is where you'll find it.
Most Memorable Family Holiday
"Kenya was one of our most memorable family holidays, very well enjoyed by everyone including my kids and my mother.
You helped us plan with # of days to enjoy each place that we visited in Kenya, activities that we must do like the balloon safari, identifying the safari camps that will suit us most, basically everything that we would need to enjoy the holiday and make it a memorable one!! Thanks for everything."
– Sumchit Anand
Look No Further
"The best compliment that I can pay you is that we look no further than your help when we book a safari in Kenya. You seem to have covered all bases."
– Phil Beech
A Nostalgic Experience
"Thank you for making my family holidays awesome. Congratulations as you celebrate a decade of making family holidays a nostalgic experience..."
– Angela Munyua
Wonderful Service
"Our nine day trip of Kenya was wonderful because of the quality of service provided by Gurumukh."
– Shiv Mantri
Transformed the Way My Family and I Travel
"I have been using Gurmukh as my preferred travel agent for about 5 years now and I have to say, it has transformed the way my family and I travel.
Gurmukh is very professional and always available. He gives me great information and is so open and honest. We clicked instantly and I really enjoy planning my trips with him."
– Nelly Kendi
A Different Adventure Each Time
"Gurmukh at My Kenya Travel has arranged all our safaris and beach holidays to Mombasa since 2010. He knows what safari camps are best suited for the type of experiences we are looking for. As our kids grew up, he would tailor our safari so we could always have a different adventure each time. We're looking forward to returning to Kenya soon for another Mara safari."
– Azra Pardhan
Amazed With the Quality Service
"I had my entire safari itinerary worked out as requested and was amazed with the quality service."
– Riaz Khan
Absolutely Top Notch
"I must say that I am super satisfied with the service I received from My Kenya Travel. I used them for two different adventures when I was i Nairobi for a period of two weeks. First a day in Nairobi including Nairobi national park, Elephant orphanage and Giraffe sanctuary. Then I went on a three day safari in Masai Mara staying at Ilkeliani camp. Both these adventures were absolutely top notch."
– Peter Nilsson